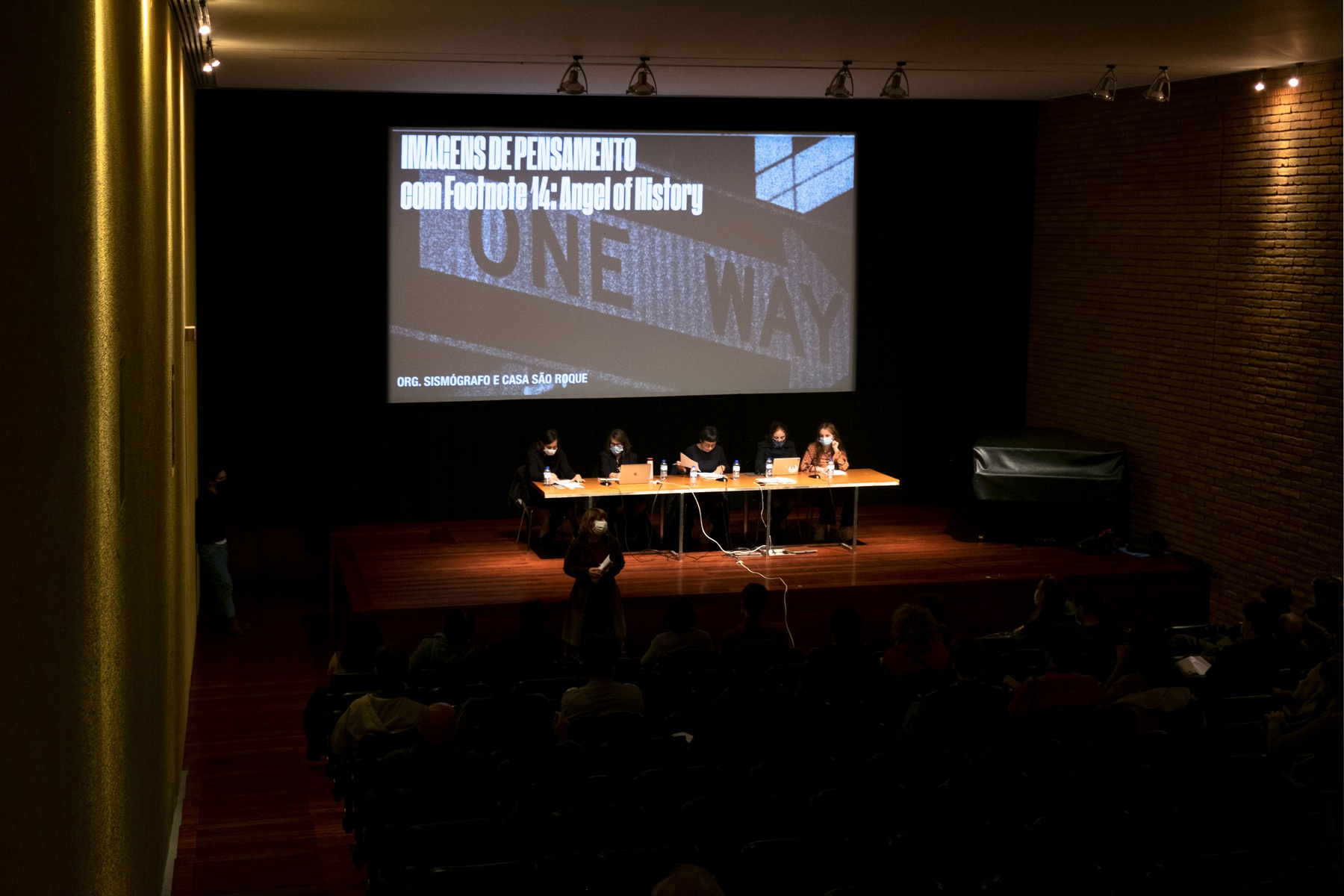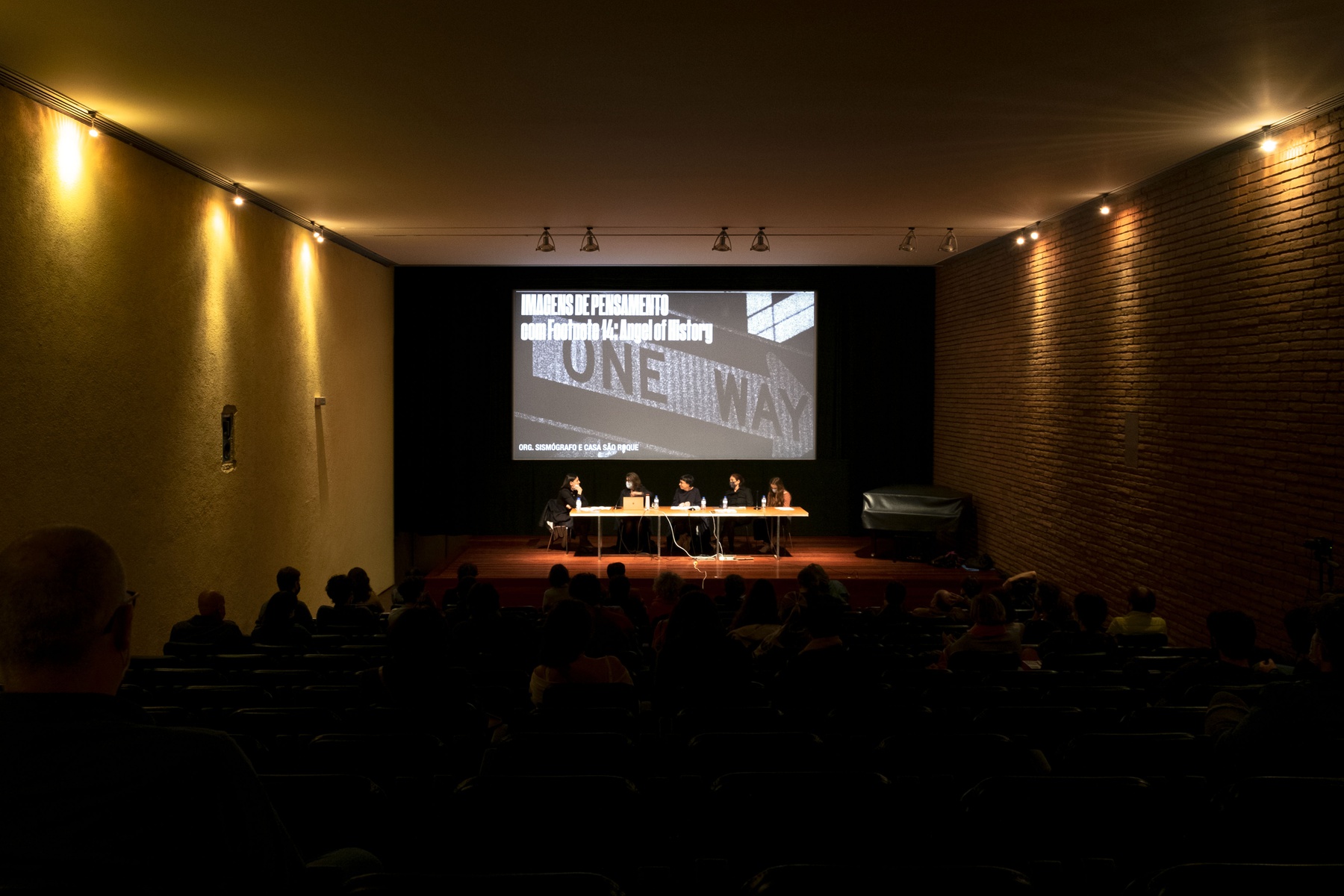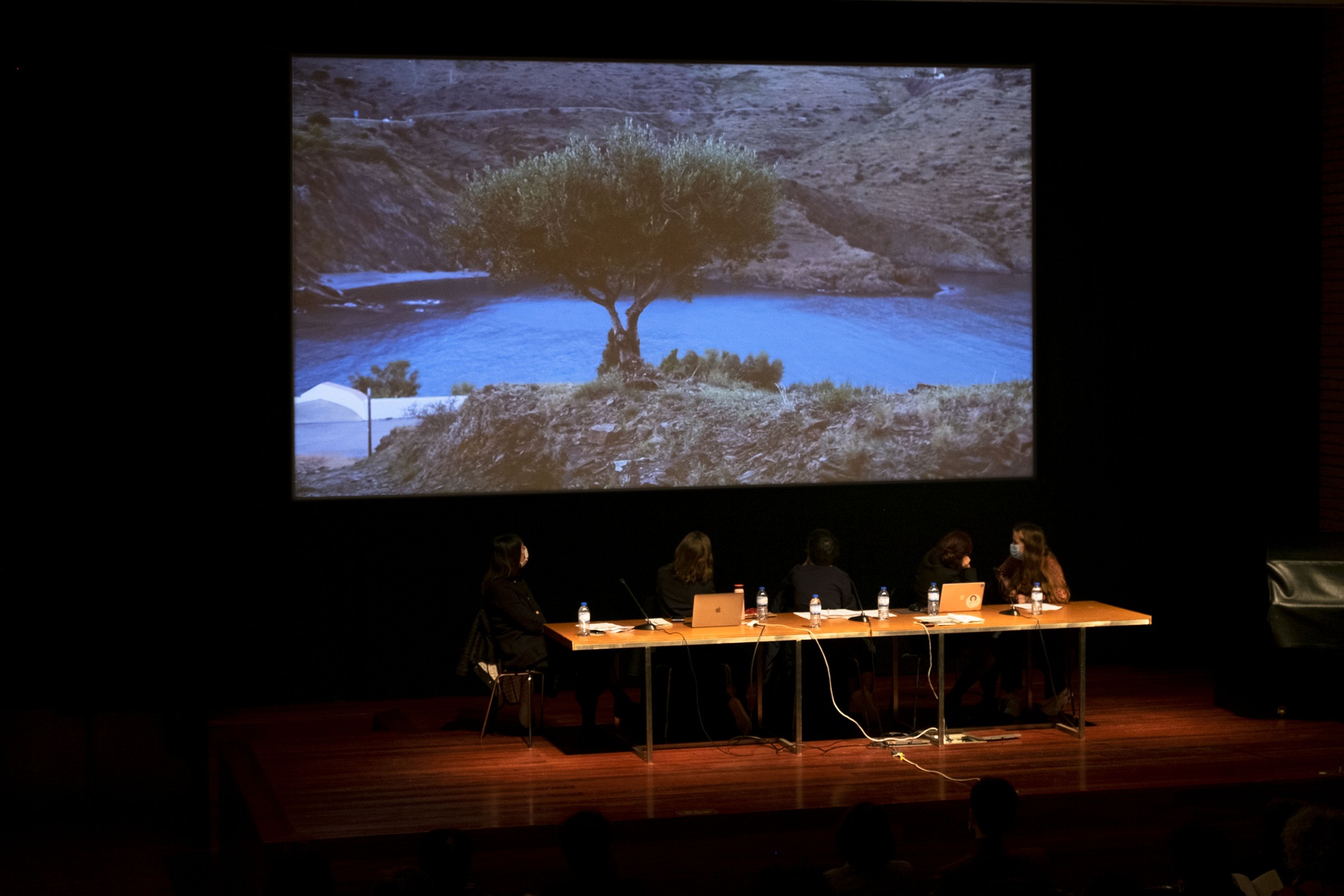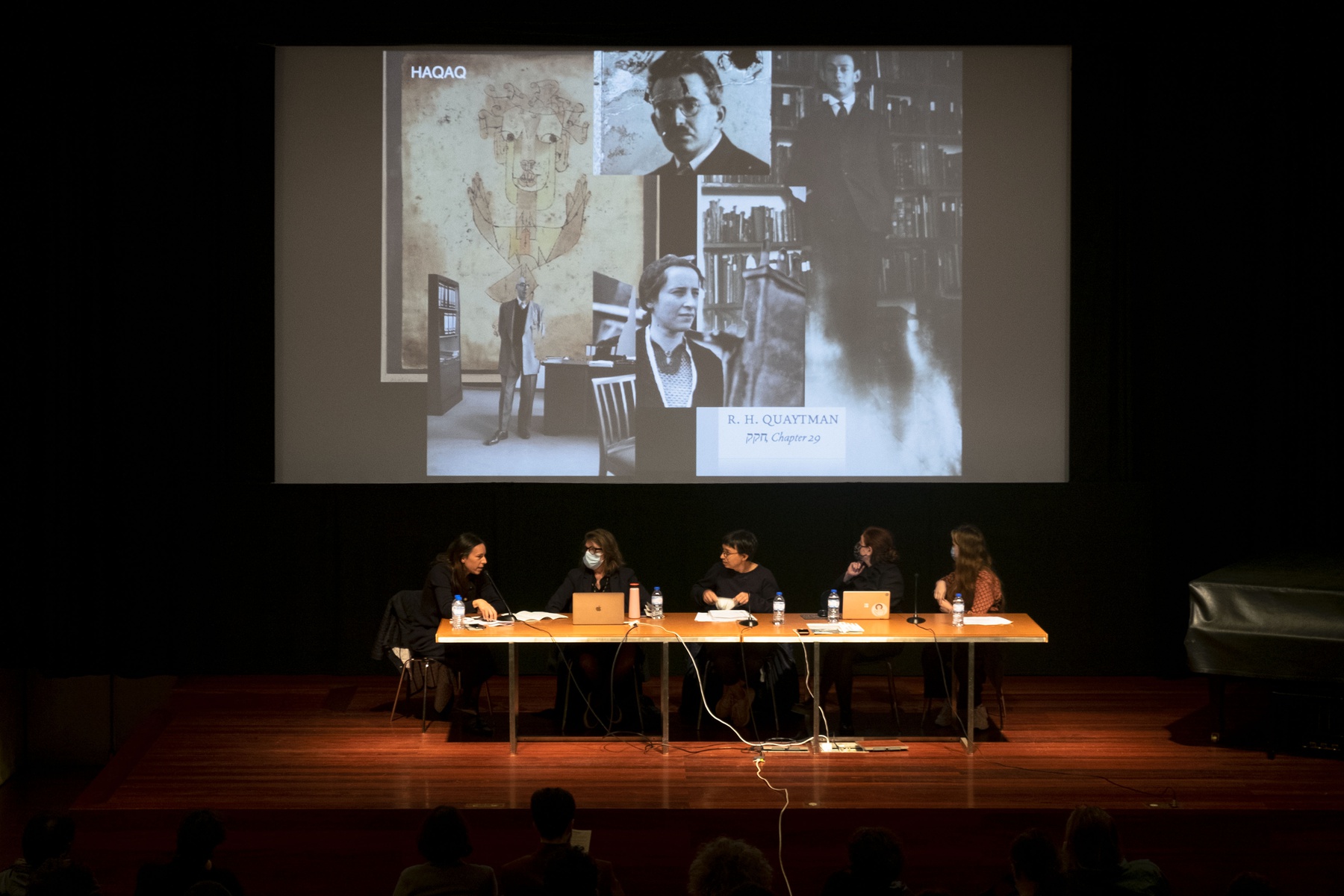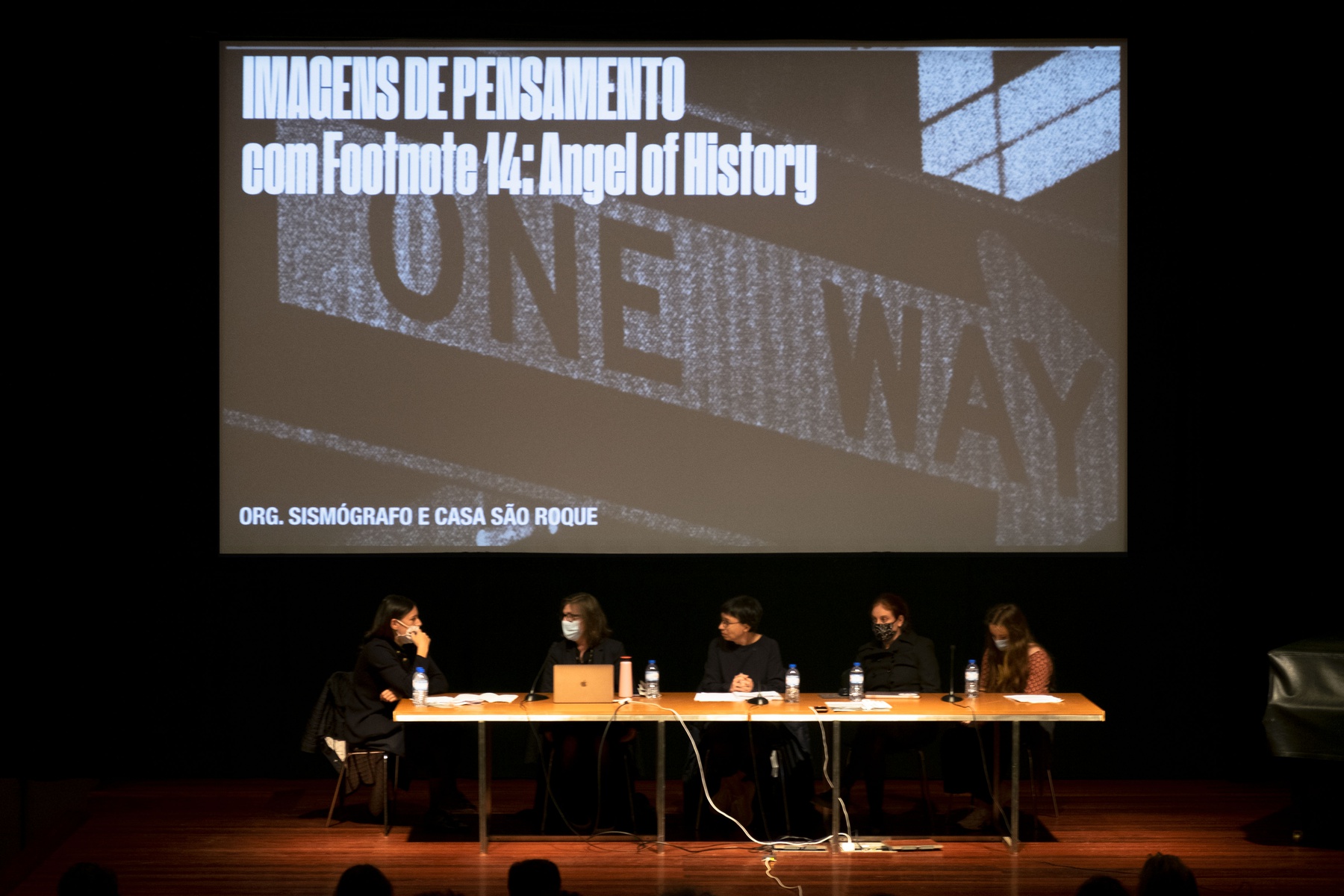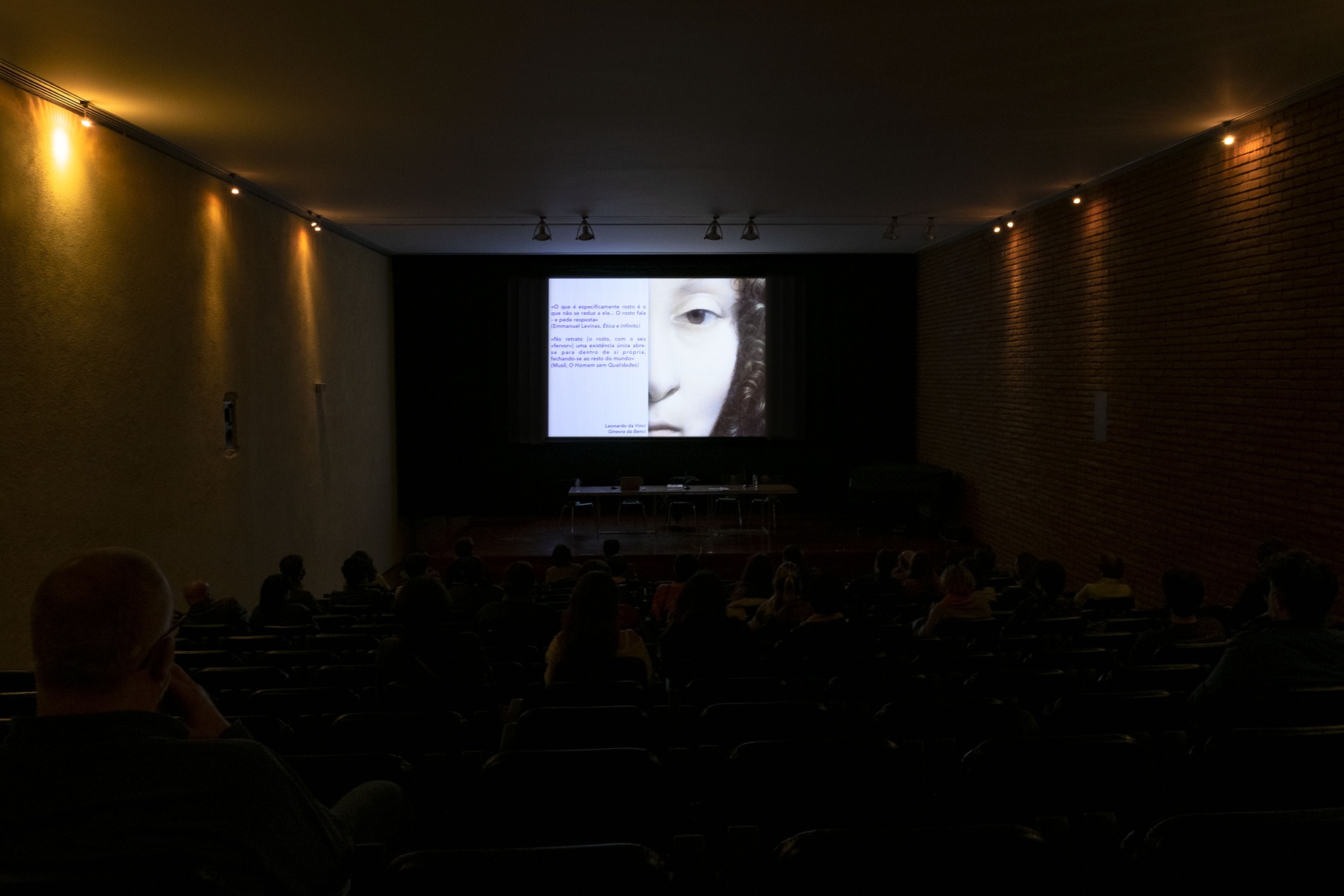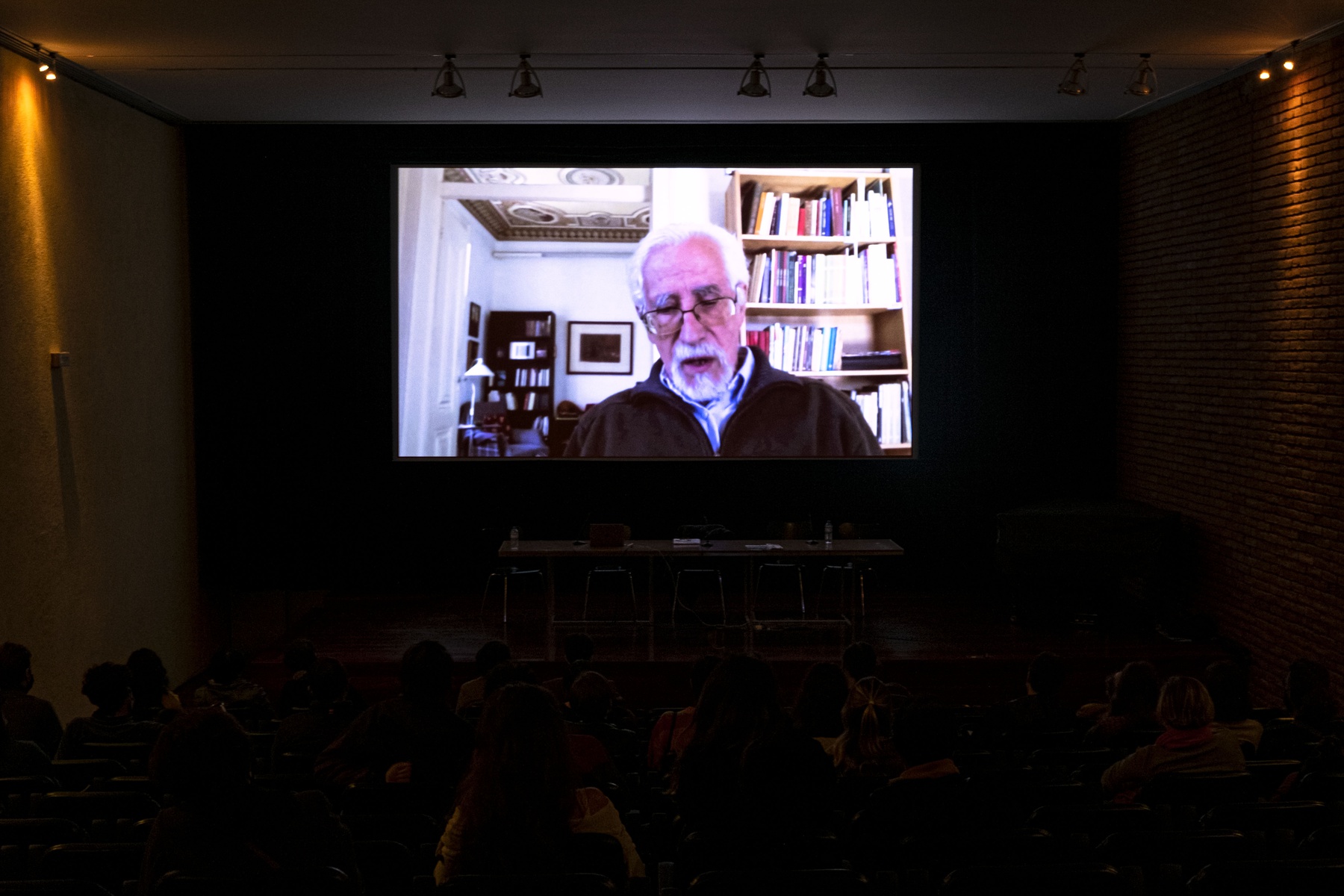 Curated by Susana Camanho & Emídio Agra
João Barrento, R. H. Quaytman, Chantal Benjamin & Lais Benjamin Campos


Thought, Outside
Sun, 25 Oct 2020
18:30 – 20:00

Domingo, 25 October 2020, 18h30

Auditorium Casa das Artes
Rua Ruben A 210
4150-639 Porto

* This session of the "Thought-images" cycle of conferences is organized by Sismógrafo, curated by Susana Camanho and Emídio Agra, in partnership with Casa São Roque, in collaboration with Barbara Piwowarska's project "Footnote 14: Angel of History".
João Barrento, R. H. Quaytman, Chantal Benjamin & Lais Benjamin Campos
The visage behind the face
or the imagining image
(pre-recorded video conference)
In this intervention, I will inquire about the place and meanings of the image (and I will distinguish types and forms of image performance) in the space of contemporary world life and art, and I will question the possible forms of intervention of thought in this world, and our (lost?) ability to look at it. From the thoughts of authors as diverse and distant as Plotinus, Walter Benjamin or the poet Gastão Cruz, we propose a series of un-timely considerations about the very notion of the contemporary (versus the up-to-date) and the image (in its broadest, etymological sense, of «phantasm» or «apparition», and in its artistic and civilizational aspects), opposing its surface manifestations, current today («the face») to its possible multiple, creative and active profiles (the «visage»), in art or beyond it. This broader idea of the image in the space of art, of History, of the lifeworld, will be commented from concepts proposed by Walter Benjamin, such as «thought-image», «thinking-in-images» or «dialectical image», exemplified in works such as One-way Street, Thought-images, Berlin Childhood and The Arcades Project, or from the famous Thesis on «The Angel of History», in itself an outstanding «thought-image». And we will try to reach some hypothesis of interpreting this time and the place of art in it, in the here and now of its uniqueness.
João Barrento is essayist and translator. (Retired) Professor of German and Comparative Literature at the Faculdade de Ciências Sociais e Humanas da Universidade Nova de Lisboa. He published twenty books of essays, criticism and literary history and chronicle, and he translated German-speaking literature and philosophy spanning from the 17th century to the present, with a particular emphasis on the edition, in 7 volumes, of Walter Benjamin's Work. Collaborator of the newspaper Público (1990-2006) and most Portuguese literary magazines. Vice-president of PEN Clube Português (1990-2006). He is currently president of the Espaço Llansol-Associação de Estudos Llansolianos, literary executor for the estate of writer Maria Gabriela Llansol. He received the most important Portuguese awards for essay, criticism, chronicle and translation, as well as the D. Dinis Award. He was awarded the German Cross of Merit (1991) and the Goethe Medal (1998).

R. H. Quaytman born in Boston in 1961, studied at Bard College and at the Institut des Hautes Études en Arts Plastiques in Paris, and received the Rome Prize Fellowship from the American Academy in 2001. In 2015, Quaytman was awarded the Wolfgang Hahn Prize with Michael Krebber. Since 2006, Quaytman has taught at Bard College, in addition to lecturing at Princeton University, Cooper Union, Columbia University, and the Yale University School of Art. In 2005, she co-founded Orchard, a cooperatively-run exhibition and event space that concluded its three-year run on the Lower East Side in 2008. Her work is held in the permanent collections of the Museum of Modern Art, the Whitney Museum of American Art, the Solomon R. Guggenheim Museum, the San Francisco Museum of Modern Art, the Institute of Contemporary Art Boston, the Museum of Fine Arts, Boston, the Art Institute of Chicago, the Pinault Collection, the Tate Modern, the Museo Reina Sofia, the V–A–C Foundation, Fondazione Memmo, the CCS Bard Hessel Museum of Art, the Baltimore Museum of Art, and the Stedelijk Museum Amsterdam, among others. A major retrospective exhibition, The Sun Does Not Move, Chapter 35, opened at the Serralves Museum on October 16th.
Chantal Benjamin born in London, in 1964, did a BA in Law and Politics at SOAS and is fluent in four languages. She lives in Berlin and is currently working as a social worker with migrant and refugee families. She has had the privilege of living in several countries both in Europe and beyond, including Brazil. Work and interests have been eclectic ranging from teaching to being in an NGO in the Amazon basin. She is Walter Benjamin's granddaughter.
Lais Chaioko Benjamin Campos was born in Berlin, in 2006. She is currently attending the 9th grade in the Jewish Gymnasium Moses Mendelssohn, in Berlin. Lais is trilingual (including Portuguese) and is learning Hebrew. She is proud of her roots which extend beyond Germany to Brazil, Portugal, the UK, and France. Lais is also the focus in the collaborative Film Project 'Berlin Childhood' directed by Aura Rosenberg and Frances Scholz. Her interests are wide-ranging from science to the arts including taking part in a Portuguese-speaking theatre group. She is Walter Benjamin's great-granddaughter.
Thought-images
"Thought-images" gives the title to this cycle of conferences opening a space in Sismógrafo's program to think images and through images. The purpose of these conferences is to unite the discursive and the image, to confront them, to recognize the potential of an image, of a fragment, rescuing vital experiences threatened in an uncertain present. This age, a turbulent and disturbing age, an age of pandemic, ecological, financial, political and social crises, these times of "post-truth" and "alternative facts" are "interesting times", to use the expression popularized by Eric Hobsbawm. Interesting times especially for thinking. Thinking is already contributing to a change. This cycle calls for a cooperation between the expressive strength of art and the precision of philosophy. Without a language that embraces images, images can blind us or say nothing. With these conferences, Sismógrafo seeks to take care of what Alexander Kluge calls a "garden of cooperation", a place that preserves the moments when word and image converge in order to produce something new, a space for discrepancy and cooperation in the face of cacophonies of information, in the face of industrial manipulation and enslavement of feelings. In difficult times, times of divisions and segregations, cooperation presents itself as an antidote to tribalism (Richard Sennett). To open this garden, this space for debate and polyphony in the city, Sismógrafo has invited speakers linked to philosophy, aesthetics, art criticism, fine arts and cinema who, at different times and from different perspectives, will try to present a diagnosis of the present.
Support
Thought, Outside
Sun, 25 Oct 2020
18:30 – 20:00

Domingo, 25 October 2020, 18h30

Auditorium Casa das Artes
Rua Ruben A 210
4150-639 Porto

* This session of the "Thought-images" cycle of conferences is organized by Sismógrafo, curated by Susana Camanho and Emídio Agra, in partnership with Casa São Roque, in collaboration with Barbara Piwowarska's project "Footnote 14: Angel of History".
Related