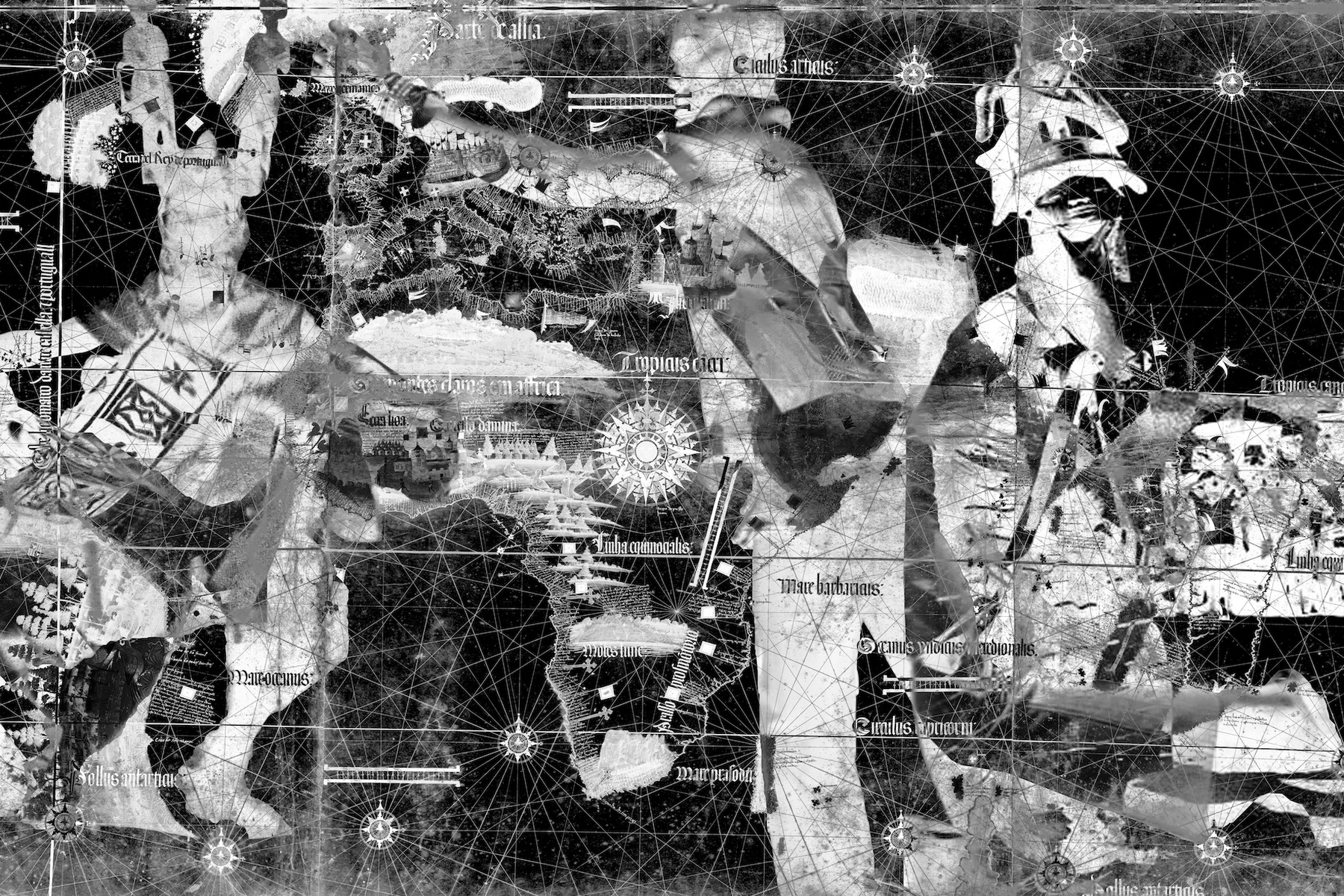 Licor-Mãe: Residues of the Sweet Purge
Residency, Outside
21 Jul – 20 Sep 2023
Opening
21 July 2023, 18:00
Free admission
Monday–Friday 9:30–17:00

Capela da Boa Viagem
– Núcleo Difusor de Arte e Cultura Contemporânea
Rua da Boa Viagem 37-A
9054-533 Funchal, Madeira
image: Dele Adeyemo, "The Cosmogony of (Racial) Capitalism", 2020
Capela da Boa Viagem presents the first moment of an artistic installation by Dele Adeyemo that results from the research process carried out by the artist as part of his residency in Funchal, Madeira island, promoted by Capela da Boa Viagem – Núcleo Difusor de Arte e Cultura Contemporânea in partnership with Sismógrafo. The second moment of this project will be shown at Sismógrafo, in Porto, between November 4th and December 9th, 2023.
Dele Adeyemo had his first contact with the history of sugar in the Madeira Archipelago when he revisited the cartographic practices of European and African societies when researching for the creation of "The Cosmogony of (Racial) Capitalism" (2022). In this audiovisual work, he highlights the role of this Portuguese island in the rooting of capitalism as a global ecological process and as a driving force behind the transformation of notions of race. On this occasion, provided by the artistic residence, Adeyemo deepens this transformation through the investigation not only of the methods used in the production of sugar, but also of the vocabulary used in this context, in an approximation and "material articulation that reveals the racial and ecological hierarchies present in the structure of capitalism".

Dele Adeyemo is a Scottish/Nigerian artist, architect and urban theorist (1985) based in London (UK) and Lagos (Nigeria, Gulf of Guinea). In his artistic practice, research and pedagogy, Adeyemo interrogates the processes of racialization incorporated in the creation of space. Through drawing, film and installation, her work employs a transdisciplinary Black aesthetic that explores embedded cultures of movement and circulation to celebrate the spatial imaginaries of everyday Black life in Africa and the diaspora. Dele's projects have been presented internationally, including the 13th and 18th Venice Architecture Biennales, the 5th Istanbul Design Biennale and the 2nd edition of the Lagos Biennale. In July 2022, he opened his first solo exhibition, Wey Dey Move: Imagining New Worlds Through Dance and Masquerade, at Het Nieuwe Instituut, in Rotterdam. From him he received the JAE Fellowship and Canadian Center for Architecture & Andrew Mellow Fellowship and a Het Nieuwe Instituut Research Fellowship. He is completing a CHASE-AHRC funded PhD entitled "Last Dark Continent" at the Center for Research Architecture at Goldsmiths, University of London, and teaches Architecture at the Royal College of Art in London.
The Capela da Boa Viagem — Núcleo Difusor de Arte e Cultura Contemporânea is a cultural facility financed by the Department of Culture of Funchal City Council, with independent programming by Hélder Folgado and production by Fractal – Suavamarelo Associação Cultural. This is an exhibition in partnership with Sismógrafo, in Porto, with the Museu A Cidade do Açúcar, in Funchal, and with support for the artistic residency by Associação Cultural Atlanteia, in Funchal.
Partnership
Residency, Outside
21 Jul – 20 Sep 2023
Opening
21 July 2023, 18:00
Free admission
Monday–Friday 9:30–17:00

Capela da Boa Viagem
– Núcleo Difusor de Arte e Cultura Contemporânea
Rua da Boa Viagem 37-A
9054-533 Funchal, Madeira
Related