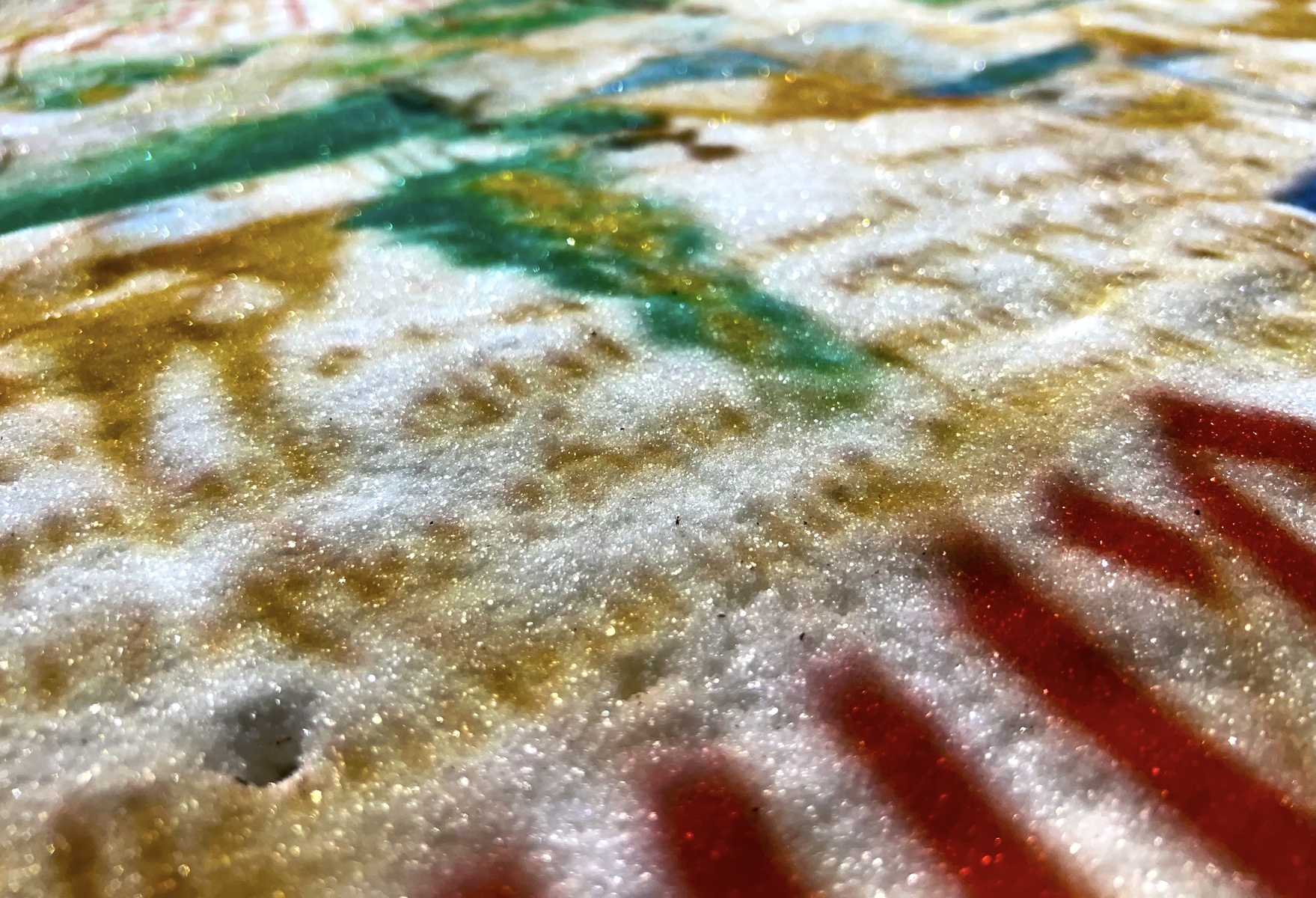 Exhibition
4 Nov – 9 Dec 2023
Opening
4 November 2023
17:00–21:00

Dj set Pati Sol
19:00–21:00
Free admission
curated by Mariana Pestana

Licor-Mãe [Mother Liquor] draws attention to the hidden ways in which Black labour has been foundational to Portuguese society for hundreds of years beginning with sugar production. In the context of histories of Black labour, Licor-Mãe foregrounds a portrait of the only space dedicated to caring for Black bodies in Madeira, the Black Beauty Salon IPRBC KAMIT run by a Cameroonian beauty therapist, Esther Céline Gwack. The installation provides an intimate perspective into a safe space critical to nurturing and tending to the Black community and other bodies that are often invisible to the wider consciousness.
This exhibition results from the research process carried out by Dele Adeyemo as part of his residency in Funchal — promoted by Capela Boa Viagem in collaboration with Sismógrafo — and it's curated by Mariana Pestana.

Dele Adeyemo is a Scottish/Nigerian artist, architect and urban theorist (1985) based in London (UK) and Lagos (Nigeria, Gulf of Guinea). In his artistic practice, research and pedagogy, Adeyemo interrogates the processes of racialization incorporated in the creation of space. Through drawing, film and installation, her work employs a transdisciplinary Black aesthetic that explores embedded cultures of movement and circulation to celebrate the spatial imaginaries of everyday Black life in Africa and the diaspora. Dele's projects have been presented internationally, including the 13th and 18th Venice Architecture Biennales, the 5th Istanbul Design Biennale and the 2nd edition of the Lagos Biennale. In July 2022, he opened his first solo exhibition, Wey Dey Move: Imagining New Worlds Through Dance and Masquerade, at Het Nieuwe Instituut, in Rotterdam. From him he received the JAE Fellowship and Canadian Center for Architecture & Andrew Mellow Fellowship and a Het Nieuwe Instituut Research Fellowship. He is completing a CHASE-AHRC funded PhD entitled "Last Dark Continent" at the Center for Research Architecture at Goldsmiths, University of London, and teaches Architecture at the Royal College of Art in London.

Mariana Pestana (1982) lives and works in Lisbon. She is an architect, curator and researcher. PhD in Architecture from Bartlett School of Architecture (2019), she creates cultural programs such as exhibitions, events and installations and among them The Future Starts Here (V&A, 2018) and Eco Visionaries (Maat, Royal Academy and Matadero, 2018-19) or the 5th Istanbul Design Biennial (2020-21). She is co-founder and director of the interdisciplinary studio The Decorators and Guest Assistant Professor at Instituto Superior Técnico in Lisbon.
The Capela da Boa Viagem — Núcleo Difusor de Arte e Cultura Contemporânea is a cultural facility financed by the Department of Culture of Funchal City Council, with independent programming by Hélder Folgado and production by Fractal – Suavamarelo Associação Cultural. The artistic residency of Dele Adeyemo was also supported by Associação Cultural Atlanteia, in Funchal.
Partnership
Exhibition
4 Nov – 9 Dec 2023
Opening
4 November 2023
17:00–21:00

Dj set Pati Sol
19:00–21:00
Free admission
Related