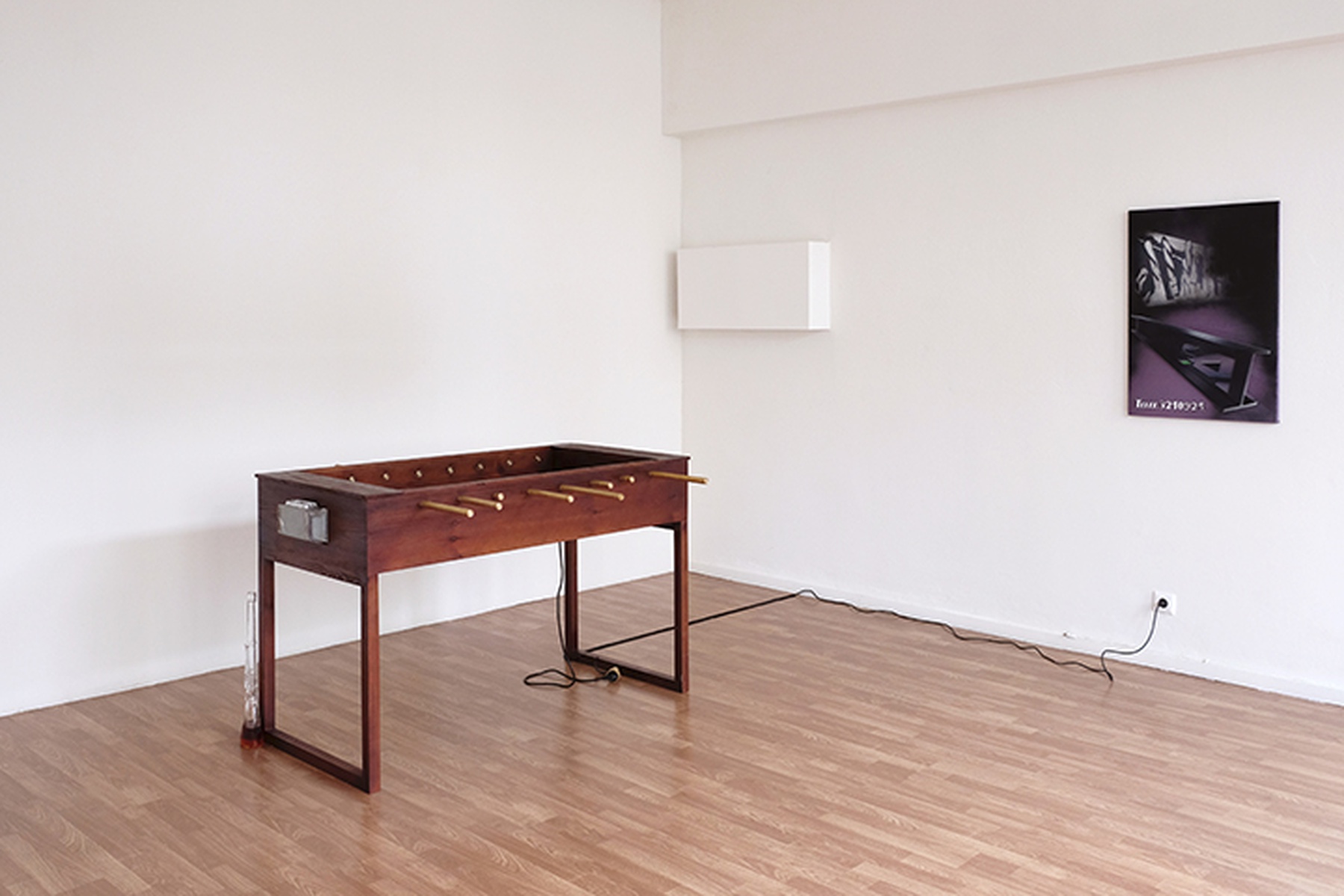 Ich wünsch Dir Liebe ohne Leiden
Exhibition
3 Jun – 2 Jul 2016
Opening
Friday, 3 June 22:00

Free admission
Curated by Óscar Faria
At the back of the bar we could hear a whistle. The match had ended and here we were celebrating another victory. Beer, red wine, brandy and grappa: each one of us chose their favourite drink. The euphoria needed to be prolonged, while, in the flatscreen, "Machete" was playing, whose scenes were sometimes glimpsed in the moments when silence gripped the table. Here smoking was allowed, just another fuel to the stories told to the rhythm of our friendship. Online searches would also serve to confirm a hypothesis. Is it true that Irina is no longer dating Bradley Cooper? Doubt and disappointment followed almost instantly: they are still together, someone said.
<br><br>
From Berlin, one more friend was arriving, and soon we went to another perch. And had to start all over again. Hear the news. The transfers: Renato Sanches to Bayern, Mourinho to United, Espírito Santo to Porto. We took a taxi, because now you could only have a drink in one of these shitholes that remains open into the night, but that didn't matter, because we felt like a band of brothers and each sip created a communion between us. We were united in the revolt against the racist comment of Alexander Gauland, from the AfD, who, following the new advertising campaign for Kinder chocolates, said: "People like him as player, but they do not want Boateng as a neighbor."
<br><br>
Anyway, the final between Real and Atlético was crap: no one deserved to win. Not even Ronaldo, that Nike's invention: "I had a vision, I was going to score the victory penalty and that's why I asked Zidane to put me fifth on the list." There is a hyperreal dimension to the ex-boyfriend of Irina, she who, as revealed by Ancelotti, was substituted by ice baths at three in the morning, in the training center. It's a kind of automaton, a computer game figure, this Madeiran, who at age of 16, in his first interview, said: "To be honest I still don't feel accomplished. I am happy to be among the first in the chart of the best scorers of the team, but I still want to score many more goals."
<br><br>
Above our heads hung the image of Madjer, 1987, that magical goal, with the heel. And also that defeat, by 6-1, in Munich, when the collapse of the team started, a team that more than one year past still didn't manage to stand up again. Bayern was better with Heynckes, more practical, than with Guardiola, who wants to achieve the perfect game: a practical impossibility. His three consecutive titles don't reach the Champions League conquered by Jupp. It wasn't enough for the Catalan to "play well" and "always win". He missed the tactical intelligence of a team where everyone wants to run and "fight for each other".
<br><br>
At certain times of the day there are only us. With each other. Drink after drink we share the sensible. There is no doubt: one day we all dreamed of being football players. Imitate Kempes, "the phenomenon", Ballack or Duda. Today, around a table, we review this instant in which Ronaldo performs a free-kick. The way he prepares the shot. The body movement before the ball takes off. The drawing of the trajectory. A work of art. <br><br>---<br>
Florian Auer (Augsburg, Germany, 1984) lives and works in Berlin. He finished his studies in sculpture, under Prof. Tobias Rehberger, at Städelschule Frankfurt in 2012. Recent solo exhibitions include "You're live (Physical States)", at Albertinum, Dresden, Germany, and "You're Live", at Kunstverein Braunschweig, Germany. His work was included in the new acquisitions exhibition of Pinakothek der Moderne, in Munich (2015). In 2014 and 2012, Auer had solo exhibitions with gallery Kraupa-Tuskany Zeidler, in Berlin. Further solo shows include "Urgently "Yesterday"", at Mottahedan Projects, Dubai (2014), "Casino noir" at S.M.A.K., in Ghent, Belgium (2013), "Believe in Better", at NAK Neuer Aachener Kunstverein, in Aachen, Germany (2013) and "Babies Are Born At Night", at Cell Project Space, in London (2013). His work was also shown internationally in numerous group exhibitions.
Exhibition
3 Jun – 2 Jul 2016
Opening
Friday, 3 June 22:00

Free admission